Description
Performance Brake Kit Complete Rotors and Pads This brake kit is a performance, stock replacement for your 07-12 Jeep Wrangler. For both axles, Drilled and Slotted Rotors and Performance Brake Pads. The perfect upgrade for your Jeep.
Upgrade to our Performance Brake Kit and experience results immediately.
Jonesy's Performance Brake Kit Fits;

2007-2012 Jeep Wrangler
360 Performance Rotors-Machined in the USA!
Not sure about drilled and slotted rotors? Consider that 90% or more of your driving is on the road where you need superior braking performance most.
Increased dissipation of water, dust and road grime from the contact area of your braking system.
Improved integrity of the pad and rotor surface, through deglazing of the contact area.
Directional slotting surface also combats "out-gassing" which is caused by gas from the brake pad bonding agent forming a cushion between your pad and rotor and thereby reducing pad "bite".
About 360 Performance Rotors-Machined in the USA!
Using premium rotor blanks and state of the art machining processes, 360 Performance Rotors meet and or exceeds industry standard specifications. 360 Performance Rotors utilizes proprietary cross drilled and slotted patterns maximizing out gassing and heat reduction for increased braking performance. All 360 Performance Rotors are zinc plated silver standard, black and gold options are available. Zinc plating prevents brake pad glazing and corrosion for longer rotor life.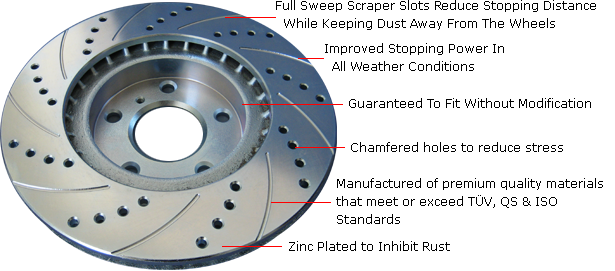 About Powerstop Brake Pads
Power Stop Z16 Evolution Brake Pads are 100% non-ferrous to eliminate annoying metal to metal noise and wear
Kevlar-enhanced ceramic is specially engineered for minimum noise and dust
The third generation Evolution ceramic is perfect for your performance street ride
Thermal Scorching process gets rid of extra resins and gases from manufacturing, improving your stopping power, break-in time, and durability
All Power Stop Evolution Clean Ride Ceramic Brake Pads include constraint-layer rubberized shims
Available in front or rear pairs
Equip your vehicle with Power Stop Rotors for the ultimate brake system
Backed by a 3-Year/36,000 Mile Warranty
Outfit your vehicle with performance brake pads that won't make a mess of your wheels or make annoying sounds. Power Stop Z16 Evolution Clean Ride Ceramic Brake Pads are designed to provide import and domestic cars and SUVs with quiet, vibration-free braking.
Power Stop Z16 Evolution Clean Ride Brake Pads feature ceramic materials enhanced with Kevlar, the material used in bullet-proof vests. High-strength Kevlar reinforces the ceramic and prevents high temperature glazing, which causes brake fade due to resin bleed. PowerStop Evolution Ceramic Brake Pads are put through a special Thermal Scorching process after assembly. In this impressive process the friction surface is heated to temperatures up to 700 degrees Celsius, burning off excess resins and gases left over by the manufacturing process. This process effectively reduces noise and break-in time as well as improves your performance, durability, and brake pad lifespan.
Power Stop Evolution pads are chamfered, slotted, and shimmed just like your OE brake pads, including constraint-layer rubberized shims. They also pair up great with Power Stop performance Brake Rotors. Your Power Stop Z16 Evolution Ceramic Brake pads are backed with a 3 Year / 36,000-Mile Warranty.
QUESTIONS AND ANSWERS
Q. What is the advantage of drilled and slotted rotors?
A. The Cross-Drilled and Slotted Edge combination helps to keep braking systems cooler, thereby reducing heat. Cross-Drilled brake rotors reduce brake fade by venting the gases away from the braking surface. Our Performance Rotors can reduce temperatures by as much as 200 degrees. This heat reduction provides excellent stopping power and a longer brake life, for even the most demanding of driving conditions.
Q. Will I need to turn rotors before installation?
A. Our Performance Rotors come balanced and ready for installation. There is no need to turn them before installing.
Q. How do I track my shipment?
A. Tracking information is automatically sent to once we ship your package.
Q. Do you ship internationally?
A. We do, please email us at info@jonesys.com for details and shipping rates.
Q. These brake parts are very inexpensive, am I getting quality parts?
A. We only sells the highest quality parts, and we machine all of our rotors in house. This eliminates the "middleman" markup and saves you money. All parts are quality tested and are ISO/TÜV/QS certified as OEM replacement and are the highest standard of rotor excellence.
Q. Will these rotors fit the factory calipers and wheel hubs?
A. All parts are machined for direct bolt on replacement of the factory parts.
Q. What condition are these items in?
A. All items are 100% brand new.
Q. Will these products require additional modifications or new brake calipers?
A. These items are Original Equipment Manufactured (OEM) items and will NOT require any type of additional modifications.
Q. What is the difference between our rotors compared to other sellers?
A. Our rotors are ISO/TÜV/QS certified and manufactured in a qualified facility in which all parts and materials are inspected and balanced to industry specifications. The difference that sets us apart from other sellers is our off the edge slotted design. This helps to vent heat and gases away from the braking surface to provide excellent stopping power and a longer brake life. Both the appearance and stopping power of these rotors will be beyond your expectations.
Q. What is best? Cross-Drilled only, Slotted only, or Cross-Drilled and Slotted?
A. Cross-Drilled rotors maximize cooling efficiency and Slotted rotors maximize pad surface braking ability, the combination of Cross-Drilled and Slotted gives you the best of both worlds.
Q. What if my lug pattern is different than the picture?
A. The picture is only to show an example of our house design; it is not necessarily the rotor you are purchasing. Rest assured you will receive the rotors for the application you are purchasing.
Jonesy's Product Collection:
All products are hand selected and field tested prior to sale. Products denoted with the Jonesy's Off Road Fabrication name are produced in house. We only make available products we deem the very best of each category. Jonesy's Off Road Fabrication is a subsidiary of Jonesy's Inc. an award winning custom automotive restoration and fabrication business. Ridgefield, WA USA.